I still remember the first time my professor introduced me to blogging when I was in college. Since then I have come a long way as a free lancer and content writer for the company I work. I quickly grabbed the idea of my boss to write for the products of my company.
I must admit, writing blogs started paying off as people actually started noticing and asking us various questions about the product.
Pics From ::: http://goo.gl/02wdBy
The Importance of Business Blogging and Why Should Small Business Blog
Blogging is a method of creating and publishing conversational content. Blogs are a content management system which is very easy to use. It is an easy to use platform to create shareable, linkable content that addresses specific prospect and customer interests.
 "One of the best marketing strategies for a small business is blogging," says Maren Hogan, chief marketing brain at Red Branch Media.
Your blog has greater reach than your email list or your website. Regular blogging reaches to – Potential/existing customers, potential employees, Partnering companies and investors, the media people.
A business blog can make a huge difference search engine optimization, which will make it easier for people to find you online. By blogging at least twice a week, you significantly increase your website's ability to be found on search. "The more you blog, the more traffic your site will get from Google and other search engines as you are adding fresh content to your website" Mike Lieberman, chief marketing scientist and president, Square 4 Marketing.
Why Would a Customer be Interested in Reading a Blog?
Because, it solves most of their quires. Remember FAQ sections on websites?
They are a thing of past and blogging is the new FAQ trend. Reading blogs built confidence among customers to buy the product.
Your business blog is an essential part of your marketing strategy. Blogging regularly for your business can help you build your voice and your brand. Your blog puts a personal face on your business, and makes it approachable to your current and prospective clients.
Why It Is Essential To Get Your Local Business Listing In Google Search?
Your blog helps position you as an expert in your field. By contributing to relevant blogs with useful content, you can expand your reach and show off your knowledge. You can post content about your industry, how-to's and other helpful material to show prospective clients that you know your business, their needs – inside and out. This will help you to build trust among visitors to your site.
Pics From::: http://goo.gl/Vu8IkL
Humanizing Your Brand & Engaging Customers in a Dialogue.
One of the very valid reasons for blogging is that it makes it an informal way of marketing. Blogs offer an opportunity for a company to present its insightful, helpful, thoughtful side. Through a blog, prospects will get a sense of your company's people, culture, and vision. Blogs are an opportunity to provide a less antiseptic view of your company that is more personal and less "corporate". Blogs can humanize your brand.
People do not like their mailbox getting flooded with newsletters and marketing advertisements. Blogging makes the clients comfortable as normally the blog content takes their point of view into consideration and they get a chance to discuss on a particular brand or product. Blogging can provide you sales leads without stressing much on marketing aspect, As it already does marketing of the product if done in a right way.
Your Business Blog and Social Media
Your business blog is the perfect supplement to social media, to market your business. On Facebook, every day I see 100s of blogs about various topics on my timeline. Many business owners have gotten excited about setting up their Facebook or Twitter pages only to be faced with the challenge of then figuring out what to share on social media. With a business blog, you will have a regular supply of relevant, original information to share with your readers.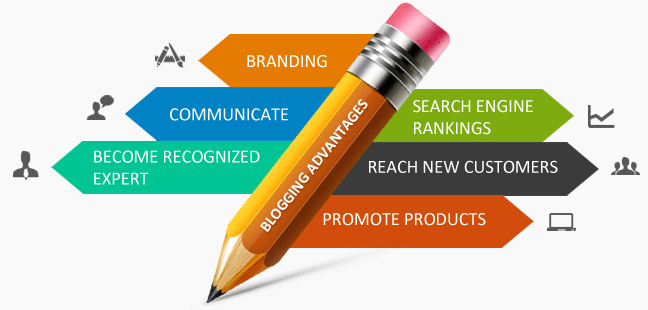 Pics From ::: http://goo.gl/8xAAIV
Maintaining Your Blog on a Regular Basis
To get the best results from your business blog, you'll need to update it regularly with good content. Think from the perspective of the clients. Think of all of the questions that you get asked on a regular basis – your answer to each of those questions is the basis for a blog post!
Small businesses that blog generate 126% more leads than SMB's that don't blog.
Companies that blog also have 97% more websites linking to them as well.
Over 60% of consumers have made a purchase based on a blog post that they read
Approximately 70% of consumers learn about a company through their blog rather than through paid advertising
Over 30% of consumers consider a blog to be the second most influential factor when it comes to making a purchase
Pics From ::: http://goo.gl/yXXtwC
The Other Advantages of Blogging
Blogs are the new email newsletters. Anything that could go in your newsletter can go in your blog. You can still send the content out via email, and readers can subscribe to your blog to get posts via email. A blog is better than a newsletter or a white paper because readers can join the debate and be positioned to respond to other "calls to action" you may place adjacent to or within posts. In addition, readers will be able to navigate your blog to read older articles that would otherwise be in a deleted newsletter or white paper. Best of all, each blog article you post will provide lasting benefit because it is a web page that can be optimized, indexed, and drawing natural search traffic for you ad infinitum.
No time for blogging or still a Novice
Pics From :: http://goo.gl/w5wbnG
Counter Argument for Business Blogging
Small businessman might easily argue that they have no time for blogging or there is more important work for them to do. You never have time for anything, Instead you need to remove time for everything. It only takes some hours of your week to pore down your thoughts in an article. Some might even argue that they are not use to writing. Please understand, you don't need to be Robin Sharma or Bill Marriott to write blogs. Simply sharing your thought in a simple grammar work wonders. If you still think that you don't fit the job and keen on starting a blog for your business then we are there for you. We have amazing content writers on board for you.